Is The Toyota FT-4X The Rock Climber Vehicle of Tomorrow?
What would an automobile look like if it was designed by an outdoor rock climber? What concepts would be incorporated by the crag-masters, adventurers, and rock jockeys? Once you sift through the dream-like suggestions of crashpads for seating and slings for seatbelts you may have something that looks a little like the new Toyota FT-4X. 





With a list of features that was obviously geared more toward the outdoor adventure junkie, could this vehicle be the future dream vehicle for climbers and outdoor enthusiasts? The mid-size SUV seems to promise the functionality of its larger predecessors without having to sacrifice style or fuel efficiency for your everyday living. 

While a lot of information is yet to be discovered, let's take a look at some of the features we know will be offered:


True 4x4 instead of all-wheel drive

Quite possibly the feature that makes the most sense and offers the most functionality. All-wheel drive (AWD) is most commonly offered in mid-size SUVs which allows for some off-road capabilities to a certain extent but is basically useless when the going gets rough. The true 4x4 capabilities with some beefy tires will allow for journeys on the road less traveled... or lack thereof.


Dome light is a removable flashlight and lantern

Forgetting the fact that most climbers own multiple headlamps that are within reach at all times, I can see this feature being fairly useful. In the event of having to hop out of the car really fast, it's nice to know that you can always reach up and grab a light source at any moment. Plus, AAA batteries are expensive.


Removable water bottles for door handles

No, that's not a typo. The door handles are removable water bottles. We have so many questions...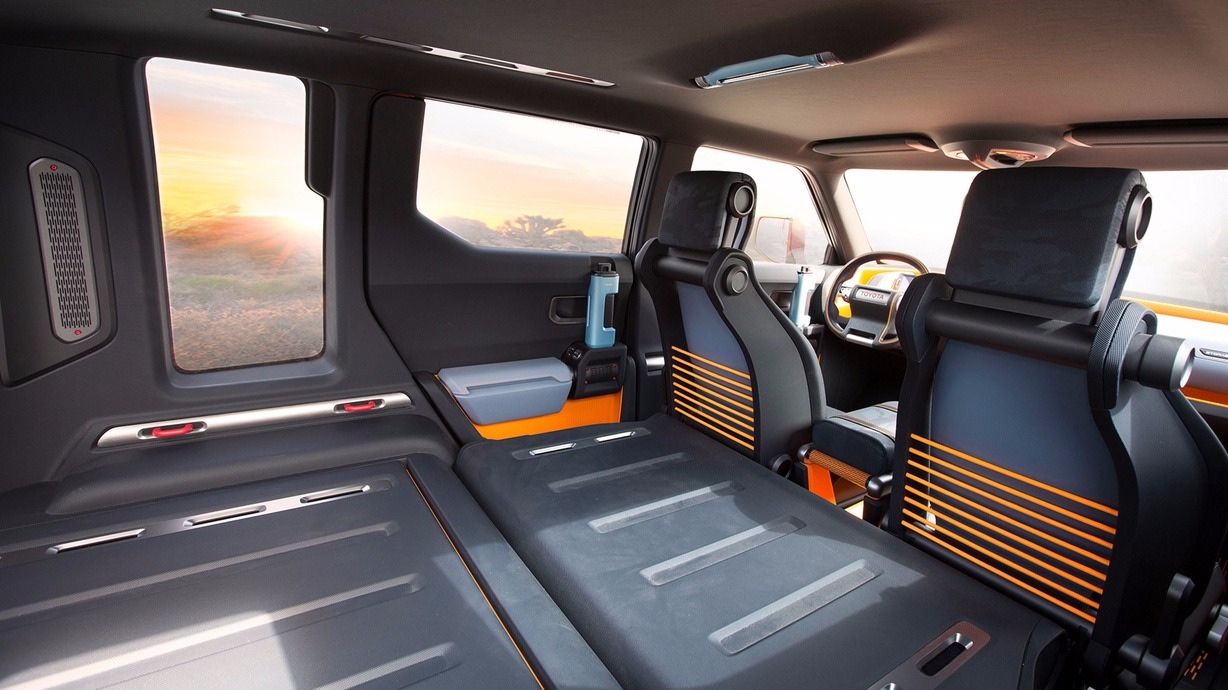 Little is known outside of this photo and a bullet point on Toyota's website about the "water bottle door handles." But for this not to be a major design flaw we can assume that they are removable, and there is still a functional door handle left behind when done so. I can't say that I often have to find an alternative for my Nalgene, because the standard 12oz can holders just don't seem to cut it, but doesn't that seem to be a more useful upgrade? It may look cool (kinda, not really), but we have to rate this as the most useless feature offered. 


Removable radio w/ battery

For nights at the campsite, this features is a major positive--but will it cause more problems than it solves for climbers? Being loud and obnoxious is often frowned upon at the crags, so the users will have to be selective of where they crank up the tunes for this feature to remain a positive one.


Reverse camera is a removable GoPro Hero Session

We are all about the GoPros, but having one used for parallel parking seems like a major waste of an incredible product. While there is no visible proof in the pictures provided, we are not entirely sure that the camera isn't mounted on the outside of the vehicle. Hopefully there is some additional security involved so not everybody around you is one step away from owning a GoPro. 


Center armrest is a North Face sleeping bag

This feature seems to be more useful in unexpected survival situations than for those that plan on spending the night outside. Again, a feature that seems more aesthetically pleasing than functionally relevant.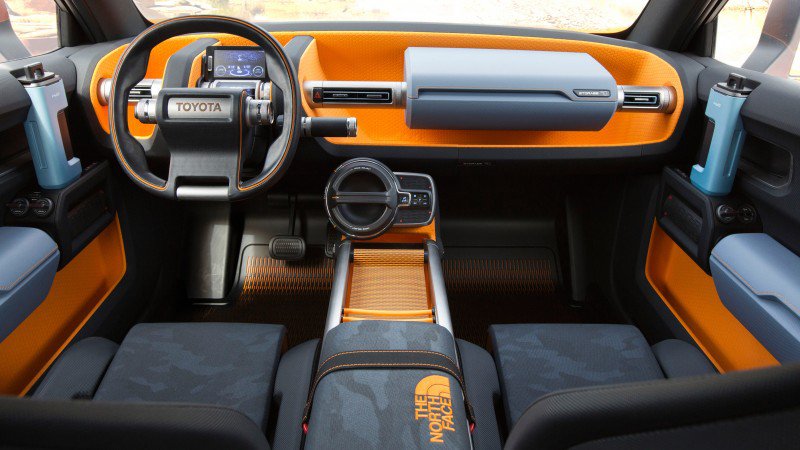 Many of the features listed seem more practical in saving space for other things in your vehicle. However, the amount of space that you would save in not having to pack these items yourself adds up to about the size large backpack. While the ability to have true 4x4 capabilities is appealing in a mid-size SUV, we don't see this making a huge splash in the climbing community.

Perhaps all that is missing is a few minor features that we would be happy to offer up to Toyota:


​Slings for seatbelts
Crashpads for carseats 
Ibuprofen dispenser
Removable stick shift that doubles as chalk brush

Join The Conversation On Social

• Follow us on Twitter @FloClimbing
• Follow us on Instagram @FloClimbing_tv
• Follow us on Facebook