Event Hub
Nathaniel Coleman Looks To Defend His Title At The Dominion Riverrock
Nathaniel Coleman has been climbing since he was 10 years old, when his friend Palmer Larson convinced him to try it out at a local gym. It was shortly after this fateful event that Coleman joined the Momentum Youth Climbing Team and began his path to becoming the U.S. bouldering national champion.



This weekend, the 20-year-old Coleman is heading to the Dominion Riverrock in Richmond, Virginia, to compete in the ninth annual Boulder Bash and Speed Competition. He will be looking to defend his title after taking the top spot at the Boulder Bash in 2016 over a field of the some of the nation's top climbers.





Here's a glance back at some of the best moments in the national champion's young career.

Coleman was considered a force to be reckoned with early on in his career. As a youth competitor in 2012, he didn't fall on a single boulder in competition until the first finals problem... and that's because he didn't see a hold. He went on to take first place easily that year and again in 2014 and 2015. Even though Coleman was not known for his feats of endurance, he also took first place in the SCS Youth Championship in 2015.



In Coleman's first Open Nationals in 2015, he achieved his only goal, which was to make finals. While a narrow margin kept him off of the podium in his first year as a pro competitor, Coleman showed incredible class following the competition. In an Instagram post, Coleman said, "Congrats to everyone who competed, and THANK YOU so much to everyone who supported me in person and from afar. It makes a world of difference!"



At the first stop of the 2015 IFSC World Cup in Toronto, the world was introduced to Coleman. He just missed the gold medal after failing to top the final boulder but settled for a second-place finish -- one spot ahead of then-world champion Adam Ondra.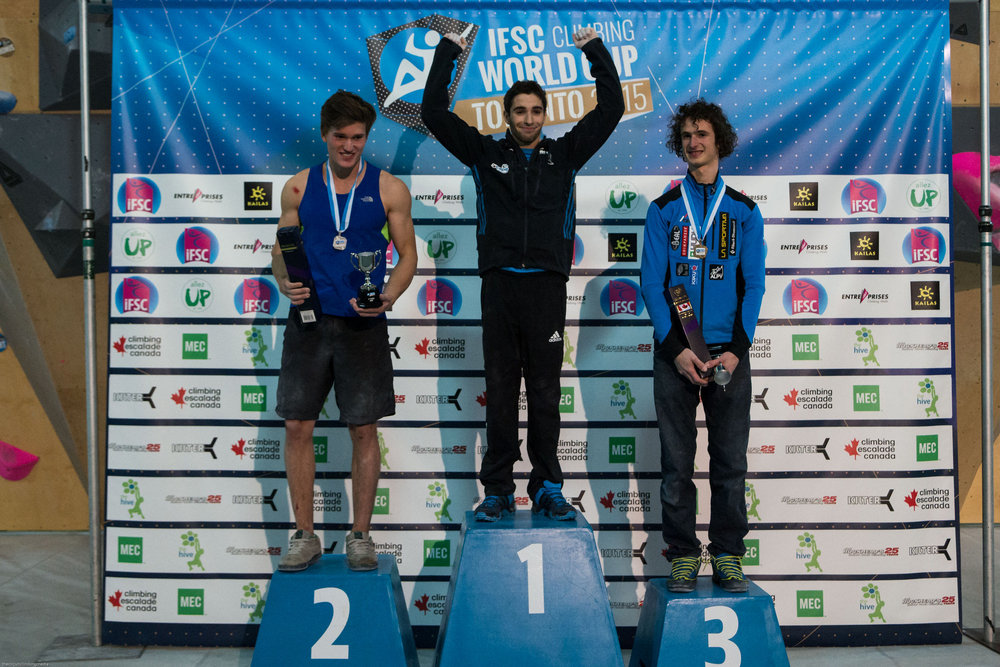 At the next stop of the tour in Vail, Colorado, there was already major buzz about the kid from Salt Lake City.



Jan Hojer beat out Coleman for the gold in a matchup that came down their number of bonus-hold attempts on problems one and two. Once again, Coleman landed one spot higher than Ondra.

Coleman would also give us one of the most memorable moments of the entire tour with his ability to barely grip onto a sliver of a hold with one finger:



Fast forward to the 2016 USAC Open Bouldering Nationals, an event in which Coleman would officially cement his place in U.S. climbing history. The finals round was so close that Coleman didn't believe that he had won. In an interview with Climbing Magazine, Coleman said, "After I was done climbing, I was sure I hadn't won; I didn't even think I was on the podium..."



This moment dawned a new era for the next generation of climbing and propelled Coleman into the limelight.

After an impressive season on the USAC National Cup Series (NCS), Coleman suffered a freak injury to his finger just six weeks before the USAC Open Bouldering Nationals.



Having not been able to climb in the six weeks leading into Open Nationals, there was doubt as to whether Coleman would be able to defend his title. Coleman just barely made it into finals as the ninth seed following the semifinals on Saturday morning. He was the first one out on the mats for finals, and from the moment the timer started he asserted his dominance against some of the world's best climbers. He flashed all four finals in front of his hometown crowd, taking the top spot above young phenom Kai Lightner and Russian national Alexei Rubtsov.



The following day, Coleman sat down with FloClimbing to talk about his epic victory on the Climb Time Podcast. "After I flashed the fourth boulder, I didn't even think about it. I was just in the moment, loving the crowd and so happy," Coleman said. "I felt like it was my best climbing day in my recent memory."

You can listen to the entire interview HERE.

Coleman is back on top and claims to be back to full form. You can watch Coleman at the Dominion Riverrock this weekend LIVE only on FloClimbing.com!

Check out the official event coverage page for photos, videos and more. 


Climbing Accomplishments

USAC Bouldering Open Nationals: First Place (2016-2017)
2016 Young gun Award Presented by The North Face
SCS Youth Nationals Championship: First Place 2015
ABS Youth Championship: First Place 2012, 2014-2015
2016 Dark Horse Champion


Notable Ascents

Warpath V14 - Castle Rocks, Idaho
Lethal Design V12 - Red Rock, Nevada


What's Next For Nathaniel Coleman?

Coleman is heading to the Dominion Riverrock in Richmond, Virginia this weekend to compete in the 9th Annual Boulder Bash and Speed Competition. He will be looking to defend his title as he took the top spot at the Boulder Bash in 2016 over a field of the some of the nation's top climbers.



How To Watch The Dominion River Rock
ON TV: Now available on Roku and Apple TV 4
STREAMING: Available only on FloClimbing for $20 monthly or $150 yearly. A yearly FloPRO subscription provides access to ALL FloSports sites. SIGN UP HERE


Join The Conversation On Social

• Follow us on Twitter @FloClimbing
• Follow us on Instagram @FloClimbing_tv
• Follow us on Facebook


Archived Competition Footage
During the weekend, archived footage from the competition will be stored in a video library for FloPRO subscribers to watch for the duration of their subscription.

Join FloPRO now for access to the best climbing content on the planet! Get live streams, original documentaries, technique videos and more.